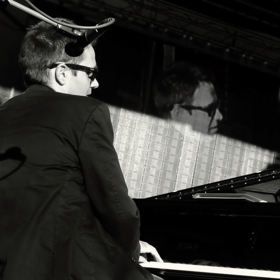 Jiří Levíček, originally from Brno, is both a pianist and composer. After studying at the Janacek Academy of Performing Arts, he moved to the United States to pursue further studies. He chose the University of North Texas (UNT), which is known for its long tradition of jazz education. For two years, he studied with Stefan Karlsson and played at the renowned One O'Clock Big Band, an orchestra whose recordings were nominated for a Grammy on many occasions. With this orchestra, he played at festivals both in the U.S. and in Europe (Kennedy Center in Washington DC, Richardson Jazz Festival, Umbria Jazz Fest, North Sea Jazz Festival, Jazz a Vienne, Richardson Jazz Festival, Jacksonville Jazz Festival, Montreux Jazz Festival, and Denton Art Jazz Festival).
Before leaving for the United States, he had made several radio recordings with Czech collaborators (Petr Dvorský, Vlastimil Trllo, Kamil Slezák). Then, in 2008, he released his almost exclusively original album "Returns," with Daniel Foose on bass and Ross Pederson on drums. The trio performed at many jazz festivals and clubs in North and South America (Washington DC, Dallas, San Antonio, a tour of Peru, Bogota in Columbus, Toronto, Canada, Pensacolla in Florida). In 2009, Jiří won the first prize at the prestigious Phillips International Jazz Competition, where he sat in the jury a year later. In 2010, he participated in the Jacksonville Jazz Piano Competition (Florida), winning the 3rd prize.
Jiří currently devotes his efforts primarily to playing in a trio and other small ensembles. Jiří´s jazz compositions are to some extent influenced by classical music, to which he is fully dedicated as a pianist and composer. He is mainly inspired by the expressiveness of post romanticism and the Second Viennese School, a music based on looser harmonic ties or even atonality. The sonic colors of his compositions and the sensitivity of his orchestration showcase the nuances that are often associated with the experience of classical music.